Skip Navigation
Website Accessibility

NEW Boppity Boo! Printables Project DISK
6 printable sets on ONE disk!
Click HERE!




Hi there! I love to try everything craftsy, so besides designing quilt patterns, books, and fabrics, I also use my artwork on graphics for scrapbooking, printables, magnets, and more! So, if you're a quilter, you can make a quilt or other project from one of my books, use the coordinating WB fabric, then print and craft MATCHING gift bags, treat bags, candy bar wraps, buckets, and more!
Boppity Boo Printable Projects Disk
Simply
print

and then follow the included VERY SIMPLE directions for making the projects. More information on supplies I used (such as papers) are given on the directions included on the disk.

Here are examples of some of the projects from the printables disk...




These are candy bar wraps. The graphic is a rectangle that you print and cut out, then wrap it around the candy bar and adhere. I like to use a two-sided tape, but you can also use glue. I crimped the right and left edges with a crimper (shown below). I bought it at my local Michael's craft store, and I love what it does. You simply roll the ends through the crimper. You can also use a credit card and use it to crease the ends back and forth to get the same effect.







So easy!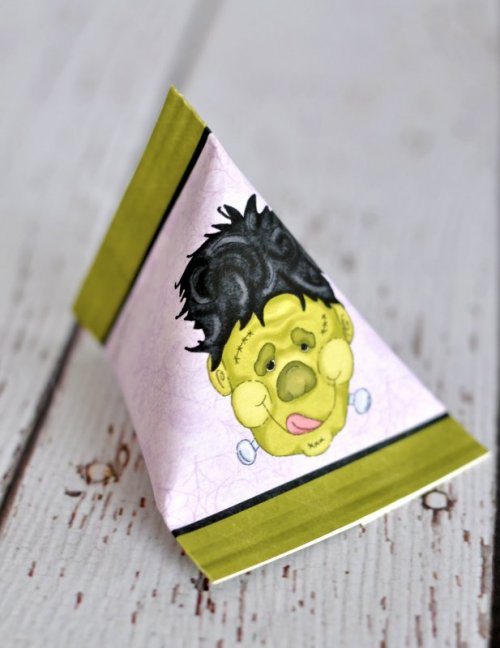 These are little triangle treat pouches, similar to sour cream pouches. This graphic too is a rectangle that you print, cut, tape, and crimp. Again, crimping is optional but makes it oh-so-cute.






This is the triangle treat graphic. I filled mine with M&M's, and I even have a "Tear Here" line on the graphic, as well as small lines that tell you where to fold the rectangle.





Candy wrapper for Rolos. Mmmmmmm.






These are composition book covers. I find the composition books at Wal-Mart for less than a dollar each. They even have great books for young kids who are learning to write, with the primary lines, and also primary journals with lines on the bottom half of the page, and blank space at the top of each page for drawing pictures.

Use the circle graphic to make pencil toppers, straw toppers (shown below), tags (shown below), or cupcake picks. I provide the circle graphic as a png also (it has a transparent background, no white behind it) so if you are a scrapbooker, cardmaker, etc., you can use the graphic for those too!




Use the same graphic from the composition book covers to make cute gift bags on 8" x 10 1/4" kraft bags! These are available on my here on our website.




Treat buckets! I love these! These little buckets
measure 6 11/16" diameter by 5 1/4" tall, and are available in our here on our website. The graphics are designed for this particular size. You simply print, cut, and glue with Mod Podge.




You will print two of the wrap for the side of the bucket, and there are cutouts on the right and left edges to allow for the handle, so your whole bucket is covered.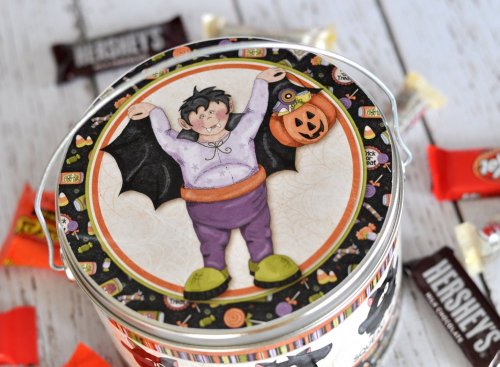 You can also use the circle graphic used on the top of the bucket to make a simple decoration for your table, or string a bunch of them to make a garland for a mantle or front of a table...



Here are the six sets included on the disk!
Mummy Set
Witch Set
Frankie Set

Werewolf Set
Vampire Set

Trick-or-Treat Set