(BUNDLE-Wafer) Wafer 1 Lightbox 9 x 12
Quantity:
Notes:
* Tell us which 2 FREE PATTERNLETS you would like! If you do not specify, we will send you the two Patternlets shown.:

Add to Cart

Whenever we sell an item that we feel is a little expensive, we like to give FREE products to help make this a good value for our customers. So, when you purchase one of our lightboxes, you get to pick

TWO FREE PATTERNLETS, and you also get the Pigma Micron 01 Brown pen for tracing!



(Please Note: To choose your two free Patternlets, simply fill in the comments box above with your choices. If you don't specify your choices, we'll send you the two Patternlets shown above, P40 Holly Jolly Santa, and P38 Sunflower.)





This is a very helpful tool for tracing embroidery and applique patterns. The light from the lightbox allows you to see your pattern and trace the lines onto your fabric or fusible web. The Wafer is only 0.8cm (3/8") thick. The tracing area measures 12.5" x 9" - easily fits A4 & US Letter. The Wafer has dimmable LEDS and provides an even spread of light from edge to edge. It is powered by Mains/AC Adapter and is very low heat.

Wafer is ideal for calligraphy, stenciling, scrapbooking, embossing, quilting, embroidery, sewing, stained
glass and much more. 120 volts.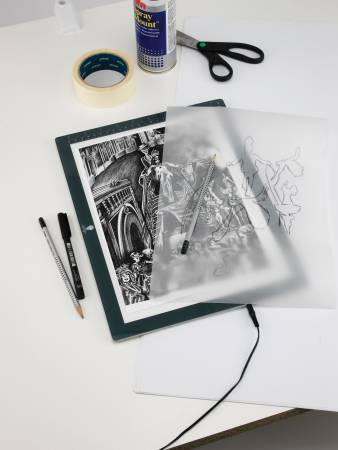 Save