(KIT-Handwarmers) KIT for Simply Saying Cold Hands Warm Heart Hand Warmer
PLEASE NOTE!

- AS WE WENT TO ORDER MORE OF THE RED DORSET TOWELS (AS SHOWN ON THE E-PATTERN), WE WERE NOTIFIED BY OUR SUPPLIER THAT THEY ARE OUT AND ARE DISCONTINUING THE DORSET TOWELS. WE HAVE REPLACED THE TOWELS WITH CAMBRIDGE, AS SHOWN ON THIS PAGE.





This kit is for the

FREE Simply Saying Cold Hands Warm Heart Hand Warmer E-Pattern. Be sure to print the pattern by clicking here and adding it to your cart

! (Finished project shown below.)


Included in this Kit (Can make approximately 6-8 complete sets of hand warmers.):
--(2) Cambridge Tea Towels (Tea towel sizes vary. Enough to make approximately 6-8 sets of hand warmers from the two towels.)

--(1) PRE-printed fabric sheet for "Cold Hands Warm Heart" squares

(Enough to make 10 sets of hand warmers.)


--(1) PRE-printed kraft card stock sheet containing tag instructions
(Enough to make 15 sets of hand warmers.)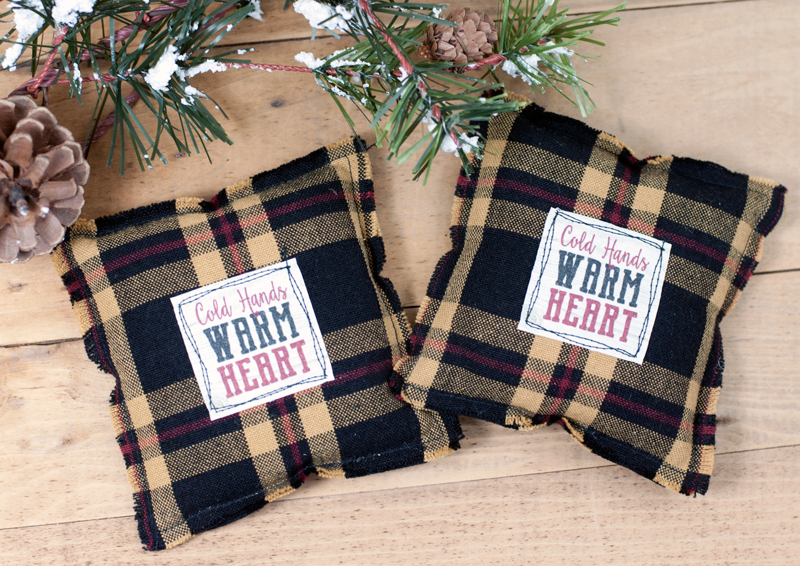 Please note, you can purchase your own blank printable fabric sheets (see links below) and print as many of the Cold Hands Warm Heart graphics as you want from your own computer by using the
FREE Simply Saying Cold Hands Warm Heart Hand Warmer E-Pattern
!
We are offering these pre-printed sheets as a convenient way for people to test the waters if you have never used printable fabric sheets, or if you do not wish to buy a whole pack of printable fabric sheets, as well as the card stock (blank sheets not sold on our website) for the instruction tags.