My name is Kelly Mueller, and I'm the owner and designer behind The Wooden Bear! I've been doing various crafts, sewing and sketching throughout my whole life, thanks to my mom. She always dabbled in all kinds of crafts and always let me join in the fun. My dad does incredible woodworking and carving. My grandparents (Bear and Rosalie) did oil painting, photography, cake decorating, quilting, woodworking…the list goes on and on. Creativity has always been in my life.

I didn't actually try quilting until the end of 2000. My husband's grandmother, Maryon (middle in the picture below), sent my son an adorable quilt she made with pieced squares and cookie cutters to make appliqué shapes. I thought, "I can do this!" So, without any previous instruction, I dove right in, had some success and was immediately hooked!



In 2002, when I couldn't find a fall quilt I liked, I purchased a large graph pad and designed my very first quilt. The local quilt store owner encouraged me to make it into a pattern to sell (something I had been thinking about but figured it would take years of experience before I could attempt it). So, I began selling the patterns in her store, then the one in the next town, and it grew and grew… And the degree in accounting has definitely proved to be a great asset (no pun intended.) I actually got an accounting degree thinking someday I would have my own craft business! I was just waiting to find that craft that I thoroughly loved, that could succeed as a business, and allow me to concentrate on my number one love, my family.



I hope you enjoy my designs, and if you make and sell your own crafts, I do allow and encourage you to use my patterns for that purpose. That's part of the fun! (But please do not copy and sell the actual patterns or epatterns :o)
Special thanks to my mother-in-law, Karol, and my husband's Grandparents, Maryon and Ralph who help me bag the MANY thousands of patterns. (They are seen hard-at-work in the picture above!) And to my husband, Brian, and sons, Zach and Caleb, who have always supported my dreams! And Mom- who loves ya' baby!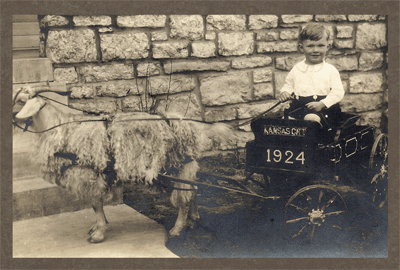 My Grandpa Bear, age 3. I named the company The Wooden Bear because it's very fitting... I like the outdoor, woodsy, northwoods look... and also because my Grandpa Bear had passed away not long before I started selling my craft items. A small tribute to him :o) Everyone called him Bear, so I didn't know until I was around ten years old that Bear was not actually his given name.








This is Megan. If you have called here or received an email from "service@thewoodenbear.com," that was Megan! She joined The Bear in 2010, and provided great relief for me, as she took over the accounting duties, phone calls, customer service emails, and also lends her expertise in marketing and so many other areas.


So now you know, that when you receive your order from The Wooden Bear, it wasn't packaged in some huge warehouse by several people down an assembly line, but simply put together with much love and care by some simple folks from our simple home.

Hope you enjoy your WB products as much as we love making them :o)

Save
Save